Judo at VIBGYOR Group
Judo as an activity is popular and conducted across all our centres. We not only have well designed curriculum, which standardizes coaching however also allows for customized approach based on individual capabilities. Our training is imparted by qualified and experienced coaches, we have best of training aids , including Judo Mats, Training Dummies, and also use audio-video inputs to enhance learning.
Apart from conducting in house gradation cum certification of our Judokas, we host AISM, Viva and Olympia Cup competitions which gives our Judokas a wider exposure to compete, hone their skills, measure progress and add to their achievements.
Our Judokas apart from being successful at various competitions and tournaments have gone to have participated at State and National Progress.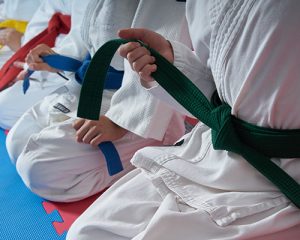 About our Curriculum:
Our Curriculum has been developed with focus on developing Physical Fitness, Judo Techniques & Self Defense Skills. The learning sequence have been designed to makes it easy for children to attempt & successfully pass Grading Examination. Objective is not only for children to pick up invaluable skills & develop confident personality however they develop interest in maintaining a healthy & fit lifestyle.
Look Into The Curriculum:
Warm-up
Tumbling Exercises / Gymnastic Elements
Balancing & Agility Exercises / Games
Judo Techniques / Games
Situational Awareness Drills / Self Defence Skills
Body Conditioning Exercises
Cooling Down
Theory of Exercise / Judo
Benefits of Judo
Confidence – Even for children who are not naturally gifted when it comes to judo, the structure of the typical judo lesson is built to recognise improvement. Kids can gain confidence and self-esteem from working on and improving at their judo.
Physical Pride – Children at a certain age start to become conscious of their physical well being, and for this reason the physical benefits of judo exercise can be very beneficial & children also develop healthier habits.
Discipline – Judo and other martial arts also teach children the benefits of disciplined practice and technique. While specific application will be for judo, this sort of discipline is also a general habit that a child can learn, and which can be applied to school and other parts of life.
Defensive Instinct – For parents concerned about the violent side of martial arts, it's important to recognize that judo and similar arts actually teach defensive instincts more than attack methods. Kids learn to recognize and react to potentially harmful situations, which can always be a valuable set of skills.
Goal Setting – As mentioned, martial arts programs are designed to encourage and recognize progress, and while this can help with self-esteem, it also helps to teach kids the benefits of setting and achieving specific goals. This is invaluable experience, both as it relates to school and growing up in general.
Intellectual Stimulation – Finally, judo also involves intense focus, memorisation, and an active mind, which all provides intellectual stimulation during breaks from school terms.